During my life I have owned a variety of breeds. Large and small. Purebred and mixed breeds but five years ago I decided that I must have "My Special Dog".
And the search began...
Although I was not quite sure what I was looking for. I knew My Special Dog must be:
fantastic with kids (I have three - all ages)
small to medium size but sturdy and resilient and SMART
healthy and would live a long life
a pet that does not shed
something that was different and unique (flashy would be nice)
My own preference was NOT All white or All black
So...
After many Dog Shows, research books and chatting with people, my sister remembered a breed that was right next door to us as we grew many, many years ago. Jean Ripple was then breeding a dog that no one recognized and that looked quite like a picture of a dog that I would draw as a doodle on everything (even as a child)!!! She could not remember the name. As a dog trainer, breeder and Animal Control officer for our town she was frustrated until one day she actually saw "THE DOG". The name of the breed:
HAVANESE
.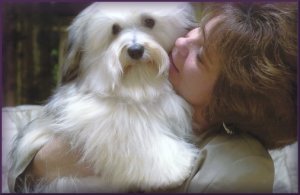 Now I knew this was My Special Dog...
I started to search the internet. My next step was to contact Natalie at Havanese Rescue. Six weeks later I had MY first Havanese, Forsgate's Margarita Rose. A lovely silver sable female who just happened to be the only puppy left from a litter of seven. At 10 months of age and in just three weekends, Margarita Rose began and finished the quest for her American championship.
I was hooked...
One Havanese just wasn't enough. My next little girl, April, came from Sineade's Kennel.
My entire family enjoys these dogs so much that I adopted our newest baby. Zujero Private Dancer De Vita. Ella is the black and white particolor I had been dreaming of.